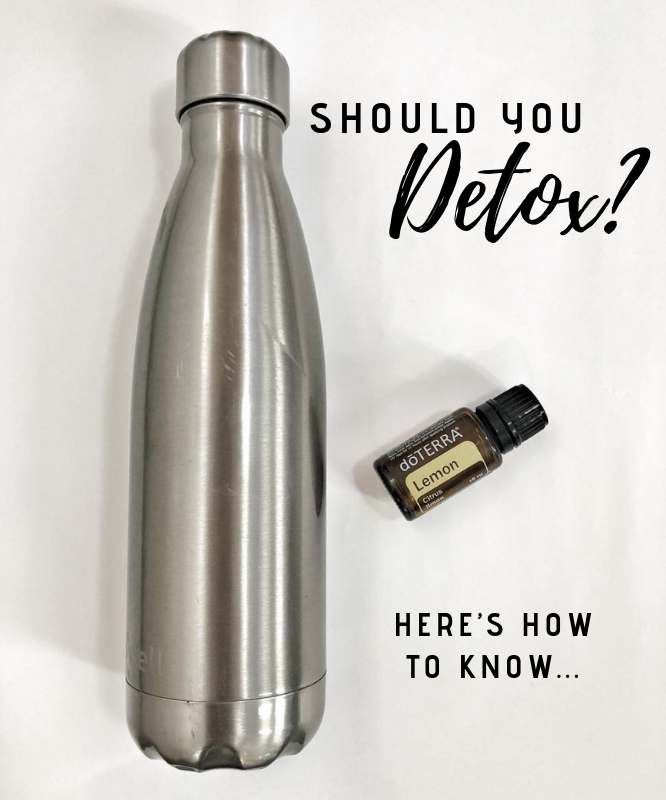 "Should I detox?"
"How do I detox?"
These are two questions I hear often. And honestly, it doesn't surprise me because the word 'detox' is thrown around so loosely these days. I've found that this concept brings about so much confusion and misunderstanding.
I even posted on Facebook asking people what came to mind when they heard the word, "detox." Of the 87 responses, the two most common answers were "alcoholic" and "juice cleanse." And while both of these responses can be relevant, it's only a very, very small piece of this necessary and misunderstood practice. On one end of the "detox spectrum," there's the medically supervised drug and alcohol detoxification, and on the completely opposite side is the yoga, meditation and vegan detox concept.
It's no wonder there's so much confusion!

So, let's break this down…
According to Google, detoxification is:
"the process of removing toxic substances or qualifications" or the "medical treatment of an alcoholic or drug addict involving abstention from drink or drugs until the bloodstream is free of toxins."
Well, that works…kind of.
However, it doesn't clear up the confusion.
Detox International explains it like this:
By true definition, detox is a metabolic process through which toxins are reduced and removed by the body. It involves a deliberate metabolic push to get toxins mobilized and eliminated and which normally uses nutritional supplements, herbs, colon and liver cleansing and raw food or juices.
Now, that clears things up a lot!
Detoxification is a powerful and deliberate process. In fact, there's so much more involved than just eating a healthy diet for a week. It's an intentional effort to eliminate toxins by using natural therapies and processes.
So, how exactly does detox work?
Well, I believe that when you're educated about the WHY and the WHAT, you're much more likely to make changes and actually implement practices. So, let's first review your detox organs and their functions:
Skin – the largest detox organ, expels toxins through sweat

Liver – the primary detox organ, has 2 detox phases

Lungs – eliminate waste produced as a result of metabolic activity

Kidneys – extracts residual wastes and surplus water from the blood to produce urine that will be finally expelled from the body
Now, how do you know if you need to detox?
Well, that answer is pretty easy…
You need to detox if you're alive, breathing and well, human. Seriously, detox should be something you practice daily!
However, let's go a bit deeper. If you're experiencing any of these signs and symptoms or participate in any of these activities, I'd recommend that you commit to a detox plan for a period of time or implement a more therapeutic detox practice:
Acne

Rosacea

Eczema

Psoriasis

Constipation

Brain fog

Headaches

Heavy and symptomatic menstruation

Exposed to heavy pesticide use

Workaround heavy metals

Quick to anger

Insomnia

White or yellow coated tongue

Itchy skin

Moodiness

Weight loss resistance

Bloating

Chemical sensitivity (if certain fragrances make you sick or you're a lightweight drinking alcohol)

Congested sinuses

Gallbladder issues (or have it removed)

Prolonged or current use of pharmaceuticals

Prolonged or current use of drugs, tobacco or alcohol
Do any of these resonate with you?

If so, here are some of my favorite tips and at-home detox methods that are simple, effective and inexpensive. You can begin these immediately!
Step 1: This step should be implemented on a daily basis…no matter how healthy or unhealthy you are.
Step 2: This step should be added to Step 1 if you're experiencing any of the above signs and symptoms.

Here's your challenge…
If you're new to detoxing, I challenge you to incorporate 3 things this week from Step 1.

And if you've been doing some detox and feel the need to step things up a bit, I challenge you to incorporate 3 things this week from Step 2.
I'm so excited for you to begin experiencing the positive impact that detox will have on your life. It's a game changer!
And if you either take me up on my challenge or you're actively doing any of these detox methods, I'd love to hear about your favorite method and/or about the changes you've experienced as a result. You can share in the comments below!
---
Please Note: This post contains affiliate links. If you make a purchase using these links, there's no additional charge to you, and I will receive a small commission from the company. This helps to cover the basic costs of this website and allows me to continue providing you with free content. Thanks so much for your support!